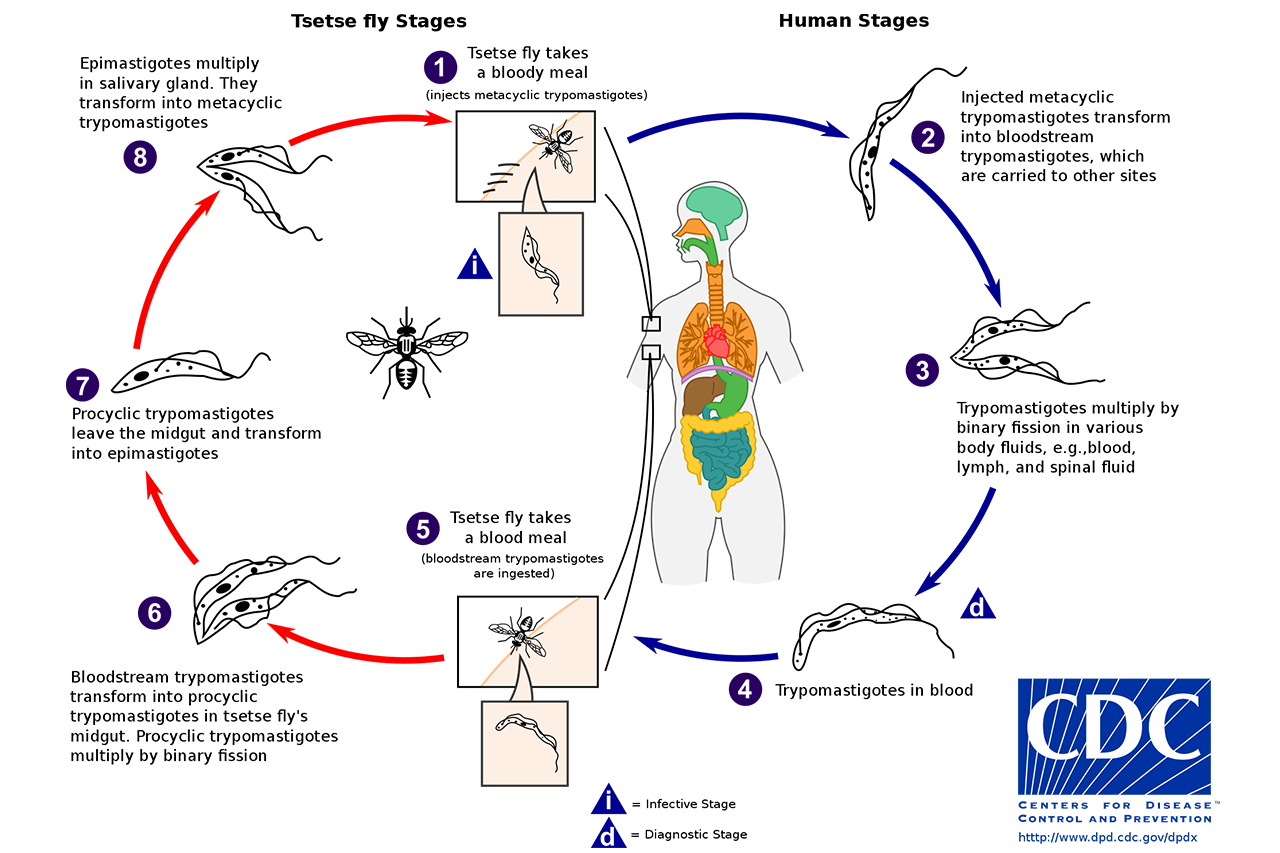 A new drug that can treat human African trypanosomiasis—commonly known as sleeping sickness—with just one dose has shown promise in a clinical trial in the Democratic Republic of the Congo and Guinea. www.science.org/content/article/news-at-a-glance-snags-emissions-monitoring-negotiations-biodiversity-sleeping-sickness?
The rare disease is caused by the parasite Trypanosoma brucei gambiense, which is transmitted by the tsetse fly. Left untreated, it is deadly. Until a few years ago, treatment required hospitalization and a series of injected drugs—difficult to administer in the remote regions where the disease occurs. In 2019, African nations began using a treatment that required 10 daily pills. However, the new drug, called acoziborole, could be even simpler. In a trial in 208 patients, the one-dose pill cured 95% of the people treated, even if they were suffering from late-stage disease. Researchers are now conducting a placebo-controlled trial with 900 participants to collect more safety data.
/////
Surprised and stung by protests against draconian "zero-COVID" policies, Chinese authorities are gingerly moving to ease the burden of lockdowns, quarantines, and constant testing. But 3 years into the pandemic, China shows no sign of planning a major course change. Mathematical models suggest why: The country is still ill-prepared for living with SARS-CoV-2. Easing restrictions today would likely trigger a massive wave of infections, overwhelm health care facilities, and bring about a high death toll. www.science.org/content/article/models-predict-massive-wave-disease-and-death-if-china-lifts-zero-covid-policy?
"China has not achieved high vaccination rates, has not used the best type of vaccines, and it has been very slow in communicating [to the public] the eventual need to transition from elimination to suppression and mitigation," says public health scientist Nick Wilson of the University of Otago, Wellington, in New Zealand. Other countries that initially followed the zero-COVID strategy, including New Zealand, used it to buy time to ramp up vaccination rates, stockpile antivirals, and boost intensive care capacity.
The fierce protests have triggered some changes. Several provinces have started to allow people to enter public transportation, restaurants, and shopping centres without proof of a negative COVID-19 test, for example, and some close contacts of patients will be allowed to isolate at home instead of being sent to quarantine centres. Those measures are "a small but important step, and I believe more steps will follow," says a Chinese scientist who asked to remain anonymous.
But models show why the Chinese government still wants to keep a lid on things. A study based on vaccination rates in March, published in Nature Medicine in May, found that lifting zero-COVID restrictions at that point could "generate a tsunami of COVID-19 cases" over a 6-month period, with 112 million symptomatic cases, 2.7 million intensive care unit (ICU) admissions, and 1.6 million deaths. Peak demand for ICU beds would hit 1 million, more than 15 times the current capacity.
The unvaccinated would account for 77% of the fatalities, according to the authors, primarily at Fudan University. Boosting vaccination rates could slash the toll, but China's elderly population has remained wary of vaccination. Even today, only 66% of those aged 80 and older have received two doses—versus 90% of the population as a whole—and just 40% have taken boosters.
Hong Kong provides a cautionary tale: A big Omicron outbreak early this year caused nearly 6,000 deaths, 96% of them in people 60 or older. At the time, Hong Kong's vaccination rates were even lower than the mainland's. In the first 3 months of this year, the city had a COVID-19 death rate of 37.7 per million population, among the highest anywhere.
A new study released on 28 November by Airfinity, a London-based health analytics firm, suggests mainland China remains vulnerable. Lifting zero COVID now could cause between 167 million and 279 million cases and between 1.3 million and 2.1 million deaths over 83 days, according to the report.
Besides being underused, China's vaccines—which contain inactivated virus—are less effective than the messenger RNA (mRNA) vaccines available elsewhere. A study in Hong Kong, where people could choose between the Pfizer-BioNTech mRNA vaccine or CoronaVac, a Chinese vaccine, showed three shots of either were more than 90% effective in preventing serious illness and death among those older than 60. But two doses of the mRNA vaccine were significantly more effective than two shots of CoronaVac. A separate study suggested CoronaVac's protection wanes more rapidly.
In May 2021, BioNTech and China's Shanghai Fosun Pharmaceutical agreed to set up a 50-50 joint venture to make and sell BioNTech's shot in China. But the product never received regulatory approval, perhaps to protect China's homegrown vaccines. Four Chinese companies have mRNA vaccines in various stages of development, but none has received the green light either. Pfizer's COVID-19 drug Paxlovid is available in China, as is a locally produced monoclonal antibody therapy, but it's unclear how many doses the country has.
Mainland authorities are still hoping to boost vaccination rates among the elderly.
But those efforts will take time, says Xi Chen, a public health scientist at the Yale School of Public Health. "Reopening too soon will crowd out resources, crush the medical system, and cause more deaths," he says. For now, China remains trapped in the Catch-22 of its own making.
////
A new World Health Organization (WHO) report released December 9, 2022 showed that over 50 per cent of life-threatening bacterial infections are becoming resistant to treatment. www.who.int/news/item/09-12-2022-report-signals-increasing-resistance-to-antibiotics-in-bacterial-infections-in-humans-and-need-for-better-data#:~:text=A%20new%20World%20Health%20Organization,by%2087%20countries%20in%202020.
The high levels of resistance to treatment were reported in bacteria frequently causing bloodstream infections in hospitals, the Global Antimicrobial Resistance and Use Surveillance System (GLASS) report stated, based on 2020 data from 87 countries.
For the first time, the Global Antimicrobial Resistance and Use Surveillance System (GLASS) report provides analyses for antimicrobial resistance (AMR) rates in the context of national testing coverage, AMR trends since 2017, and data on antimicrobial consumption in humans in 27 countries. Within six years, GLASS achieved participation from 127 countries with 72% of the world's population. The report includes an innovative interactive digital format to facilitate data extraction and graphics.
The report shows high levels (above 50%) of resistance were reported in bacteria frequently causing bloodstream infections in hospitals, such as Klebsiella pneumoniae and Acinetobacter spp. These life-threatening infections require treatment with last-resort antibiotics, such as carbapenems. However, 8% of bloodstream infections caused by Klebsiella pneumoniae were reported as resistant to carbapenems, increasing the risk of death due to unmanageable infections.
Common bacterial infections are becoming increasingly resistant to treatments. Over 60% of Neisseria gonorrhoea isolates, a common sexually transmitted disease, have shown resistance to one of the most used oral antibacterials, ciprofloxacin. Over 20% of E.coli isolates – the most common pathogen in urinary tract infections – were resistant to both first-line drugs (ampicillin and co-trimoxazole) and second-line treatments (fluoroquinolones).
Although most resistance trends have remained stable over the past 4 years, bloodstream infections due to resistant Escherichia coli and Salmonella spp. and resistant gonorrhoea infections increased by at least 15% compared to rates in 2017. More research is needed to identify the reasons behind the observed AMR increase and to what extent it is related to raised hospitalizations and increased antibiotic treatments during the COVID-19 pandemic.
New analyses show that countries with a lower testing coverage, mostly low- and middle-income countries (LMICs), are more likely to report significantly higher AMR rates for most "bug-drug" combinations. This may be (partly) due to the fact that in many LMICs, a limited number of referral hospitals report to GLASS. These hospitals often care for the sickest patients who may have received previous antibiotic treatment.
For example, the global median AMR levels were 42% (E. Coli) and 35% (Methicilin-resistant Staphylococcus aureus – MRSA) – the two AMR Sustainable Development Goal indicators. But when only countries with high testing coverage were considered, these levels were markedly lower at 11% and 6.8%, respectively.
As for antimicrobial consumption in humans, 65% of 27 reporting countries met WHO's target of ensuring that at least 60% of antimicrobials consumed are from the 'ACCESS' group of antibiotics, i.e. antibiotics which – according to the WHO AWaRE classification – are effective in a wide range of common infections and have a relatively low risk of creating resistance.
////
Federal health officials and their research partners are moving with urgency to break down, study, and find ways to respond to the growing long COVID crisis in the United States. www.medscape.com/viewarticle/985357?src=wnl_edit_tpal&uac=398271FG&impID=4970435&faf=1
As about 1 in 5 US adults with COVID-19 go on to develop long COVID, the work is vital, Gary Gibbons, MD, director of the National Heart, Lung, and Blood Institute, part of the National Institutes of Health (NIH), said at a Friday media briefing.
"The goal is to rapidly accelerate and advance our understanding of [long COVID] as a means of moving toward predicting, diagnosing, treating, and preventing this disorder ultimately," he said.
This need to move quickly was buoyed in December 2021 when the US Congress allocated $1.5 billion over 4 years to the NIH to study how to predict, diagnose, treat, and prevent long COVID.
Already, long COVID studies funded by this initiative, dubbed RECOVER, have amassed data on more than 200,000 long COVID cases identified in electronic health records. Searching for patterns in these records has helped scientists identify key risk factors for long COVID, as well as some of the most common symptoms.
It has also revealed some interesting data about long COVID patients that may help shape their care down the line. For example, scientists early in the pandemic realized that type 2 diabetes was one risk factor for developing long COVID. But now, Gibbons said, newer research has also found people with long COVID may be more likely to develop type 2 diabetes.
Early analyses of the data already collected should be ready in the first half of 2023, Gibbons said.
Examining these electronic health records has also helped pinpoint some key areas of focus for NIH clinical trials. One large question is why the virus lingers in some people but not others. Other major questions targeted by trials aim to understand common long COVID symptoms like brain fog, exercise intolerance, sleep disturbances, and dysregulation of basic functions like regulating heart rate and body temperature.
The scale and size of trials so far is staggering, enrolling about 11,000 patients in a year, Gibbons said. Scientists are making "rapid progress in building what already is the largest, most diverse, and what will be the most comprehensively defined cohort of [long COVID] patients in the world that exists to our knowledge," Gibbons said.
////
Lalita Panicker is Consulting Editor, Views and Editor, Insight, Hindustan Times, New Delhi