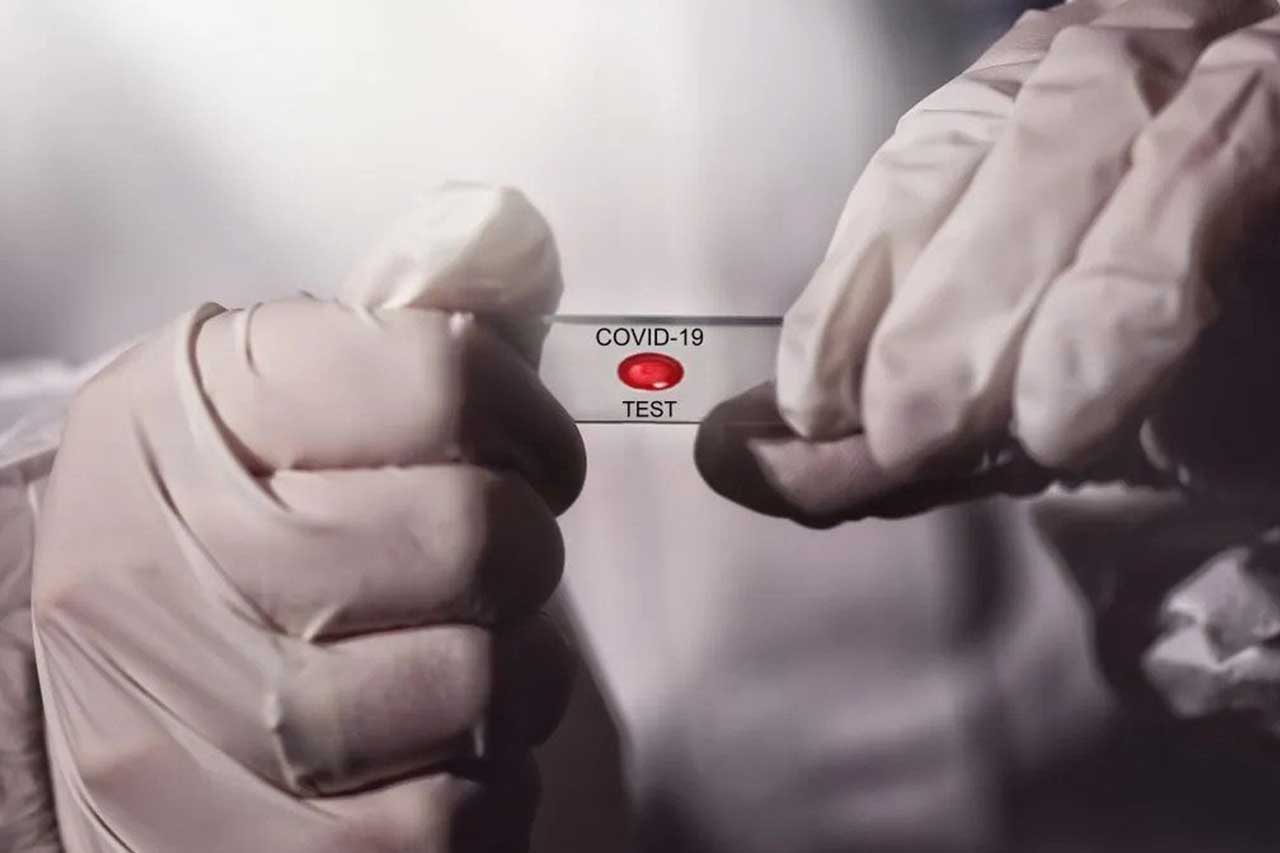 United States (US) President Joe Biden tested positive for the coronavirus again on Saturday morning, becoming the latest example of a rebound case after taking the Paxlovid treatment that has otherwise been credited with broadly impressive results in fighting the virus and suppressing its worst effects.
"The President has experienced no re-emergence of symptoms, and continues to feel quite well," Dr Kevin C. O'Connor, the White House physician, said in a memo released by the press office. "This being the case, there is no reason to reinitiate treatment at this time, but we will obviously continue close observation."
The "'rebound' positivity," as Dr O'Connor termed it, meant that Biden was forced to resume "strict isolation procedures" in keeping with medical advice.
Biden played down the development. "Folks, today I tested positive for COVID again," he wrote on Twitter. "This happens with a small minority of folks. I've got no symptoms but I am going to isolate for the safety of everyone around me. I'm still at work, and will be back on the road soon."
Biden first tested positive for COVID-19 on July 21 and experienced a sore throat, runny nose, cough, body aches and fatigue. After five days of isolation, he tested negative on Tuesday evening and returned to the Oval Office on Wednesday, declaring that his relatively mild case demonstrated how much progress had been made in fighting the virus that has killed more than one million Americans.
But doctors were watching for signs of a rebound case and made sure to keep testing him every day. He tested negative on Wednesday, Thursday and Friday before receiving a positive antigen result on Saturday morning.
Paxlovid rebound has become a source of debate within the scientific community and among COVID patients. Initial clinical studies of the drug, which is made by Pfizer, suggested that only about 1 percent to 2 percent of those treated with Paxlovid experienced symptoms again. A study published in June that has not yet been peer-reviewed found that of 13,644 adults, about 5 percent tested positive again within 30 days and 6 percent experienced symptoms again.
But the anecdotal accounts of Paxlovid rebound — including a case involving Dr Anthony S. Fauci, the President's chief medical adviser — have echoed widely, causing many to wonder whether the reported data was still accurate as the new and much more contagious BA.5 subvariant sweeps through communities and reinfects even patients who recently recovered from COVID-19.
/////
The following is a summary of some recent studies on COVID-19. They include research that warrants further study to corroborate the findings and that has yet to be certified by peer review. Reinfections, severe outcomes may be more common with BA.5. Compared with the earlier Omicron BA.2 subvariant, the currently dominant Omicron BA.5 is linked with higher odds of causing a second SARS-COV-2 infection regardless of vaccination status, a study from Portugal suggests.
////
A new study has shown that taking a single dose of a widely used, cheap antibiotic within 3 days after condomless sex can help prevent chlamydia, syphilis, and gonorrhoea, three sexually transmitted infections (STI or STDs) that have soared in the US, Europe, and elsewhere over the past 2 decades. www.science.org/content/article/taking-antibiotic-after-sex-could-help-curb-three-common-stds?
The study, mainly in men who have sex with men (MSM) in San Francisco and Seattle, was halted in May after an independent data monitoring board found that the strategy, known as doxycycline postexposure prophylaxis (doxyPEP), reduced the risk of chlamydia and gonorrhoea by more than 60%—a result so convincing there was no need to continue the study. DoxyPEP also appeared to protect against syphilis, but too few cases occurred during the trial to reach statistical significance.
The data is scheduled to be presented at the 24th International AIDS Conference in Montreal.
///
The World Health Organization (WHO) has declared the global spread of monkeypox a Public Health Emergency of International Concern (PHEIC), even though a special advisory committee again declined to recommend the action. This is the first time since the PHEIC system was created in 2005 that the agency has made such a declaration without the panel's endorsement. www.science.org/content/article/declaring-monkeypox-an-international-emergency-who-chief-rejects-expert-panels-advice?
WHO's Emergency Committee, which met on 21 July, did not reach a consensus on whether to declare the burgeoning monkeypox outbreak in more than 70 countries a PHEIC; with a narrow majority voting against doing so. But Tedros Adhanom Ghebreyesus, WHO's director-general, invoked a PHEIC at a press conference later in Geneva. "We have an outbreak that has spread around the world rapidly, through new modes of transmission, about which we understand too little and which meets the criteria in the International Health Regulations," he said.
The committee first recommended against declaring a PHEIC in June, a move that was widely criticized by epidemiologists and global health experts, but that WHO accepted. Tedros reconvened the group this week and asked it to reconsider the question, which it did in a 7-hour meeting. At the end, nine members were against declaring a PHEIC and six in favour, Tedros said at the press conference.
The Thursday meeting of the expert panel was followed by tense exchanges via email and text messages between those who had taken part, Science has learned.
Among the objections to a PHEIC raised by members of the committee was that the disease had caused few deaths so far and was not spreading in the general population, along with fears that a PHEIC could lead to further stigmatization of MSM, the group primarily affected.
Many advocates for gay rights and sexual health in MSM have advocated for a PHEIC, however, to help raise awareness and protect those most vulnerable, as some members of the committee noted. "Although I'm declaring a public health emergency of international concern, for the moment, this is an outbreak that's concentrated among men who have sex with men, especially those with multiple sexual partners," Tedros said. "That means that this is an outbreak that can be stopped with the right strategies in the right groups."
Those in favour of declaring a PHEIC also cited the rising number of monkeypox cases, more than 15,000 so far, and countries affected, and noted many cases are likely still being missed. They also pointed out the risk of the virus permanently establishing itself in the global human population. Indeed, late last week the US Centers for Disease Control and Prevention noted that two children in the US had the illness.
Sources familiar with the deliberations of the committee said the votes for a PHEIC were driven by those with expertise in monkeypox and LGBT health, and those against by more generalist global heath voices.
A PHEIC gives WHO some additional powers and it is the loudest alarm bell the organization can ring. Since the tool was created as part of the International Health Regulations in 2005, a PHEIC has been declared six times: for outbreaks of H1N1 influenza, polio, zika, COVID-19, and twice for ebola outbreaks. The PHEICs for COVID-19 and polio are ongoing.
///
A stick-on patch that can take an ultrasound scan of a person's insides as they go about their daily life has been hailed as a revolution in medical imaging. www.theguardian.com/science/2022/jul/28/stick-on-ultrasound-patch-revolution-medical-imaging
The wearable patch, which is the size of a postage stamp, can image blood vessels, the digestive system and internal organs for up to 48 hours, giving doctors a more detailed picture of a patient's health than the snapshots provided by routine scans.
In laboratory tests, researchers used the patches to watch people's hearts change shape during exercise, their stomachs expand and shrink as they drank and passed drinks, and their muscles pick up microdamage when weightlifting.
Prof Xuanhe Zhao at Massachusetts Institute of Technology, who led the research team, said the patches could "revolutionise" medical imaging because existing scans are very brief, sometimes lasting only seconds, and usually have to be performed in hospitals.
Ultimately, Zhao envisions people buying boxes of the patches over the counter and using them, with help from smart algorithms on their mobile phones, to monitor their heart, lungs and digestive systems for early signs of disease or infection, or their muscles during rehabilitation or physical training.
The bio adhesive ultrasound (or Baus) patch contains an array of tiny sensors (piezoelectric transducers) that beam ultrasonic waves through the skin and into the body. These waves bounce off blood vessels, tissues and internal organs are detected by the same elements in the patch. At the moment, the patch has to be connected to an instrument that turns the reflections into images, but the researchers are developing a wireless patch to work with software on a mobile phone. Details of the patch are published in Science.
Even without a wireless version, the patches could make an immediate difference in hospitals, the researchers say, by monitoring patients' insides while they lie in bed, much as stick-on electrodes are used to monitor their heart activity.
Ultrasound scans are extremely common, with NHS England performing more than 8 million last year. But the technique has major limitations, requiring highly trained sonographers to place and orient the probes on patients' bodies to get high-quality images. For this reason, most ultrasound scans are brief and performed on patients who are required to keep still while the images are taken.
Wireless patches could sidestep some of these problems, as they can be fixed in position and left to take images for hours, and even days, at a time, the researchers say. Beyond scanning organs for early signs of disease, the "set and forget" patches could monitor bladder function, tumours, and the development of foetuses in the womb.
////
Lalita Panicker is Consulting Editor, Views and Editor, Insight, Hindustan Times, New Delhi